This season, pass holders from every Powder Alliance resort set out in search of the best snow possible in the 2018/19 Wild West Powder Quest. Some spent days, other spent weeks. Some traveled as far as Chile and Japan but all recorded their visits on Instagram #WWPQ19 for a chance to win season passes, goodie bags, and a trip for two (2) to the Powder Alliance resort of their choice. This season three lucky winners were rewarded for their love of their sport, Larry McDonald, Adam Baron, and Karen Boyle.
Created by the Powder Alliance, one of the world's premiere season pass cooperatives, the Wild West Powder Quest encourages pass holders to visit all other Powder Alliance resorts (up to three times free) for their chance to win season passes, goodie bags, and a trip for two (2) to the Powder Alliance resort of their choice. More than 100,000 guests were eligible to participate this winter.
Once entered at http://www.powderalliance.com/wildwestpowderquest/ each Instagram post geotagged #WWPQ19 acted as an entry. Limit one entry per resort. The more resorts a guest visited, the better their chances of winning. Powder Alliance resorts for 18.19 included Angel Fire, NM, Bogus Basin, ID, Bridger Bowl, MT, Castle Mountain, AB Canada, China Peak, CA, Kiroro, Japan, La Parva, Chile, Loveland Ski Area, CO, Marmot Basin, AB Canada, Monarch Mountain, CO, Mountain High, CA, Mt Hood Skibowl, OR, Schweitzer, ID, Silver Star, BC Canada, Stevens Pass, WA, Sierra At Tahoe, CA, Sugar Bowl, CA, Timberline, OR, and Whitewater, BC Canada.
This year's winners are:
1st Place: Larry McDonald – 4 days of lifts, lodging, and airfare for two (2) @ La Parva, Chile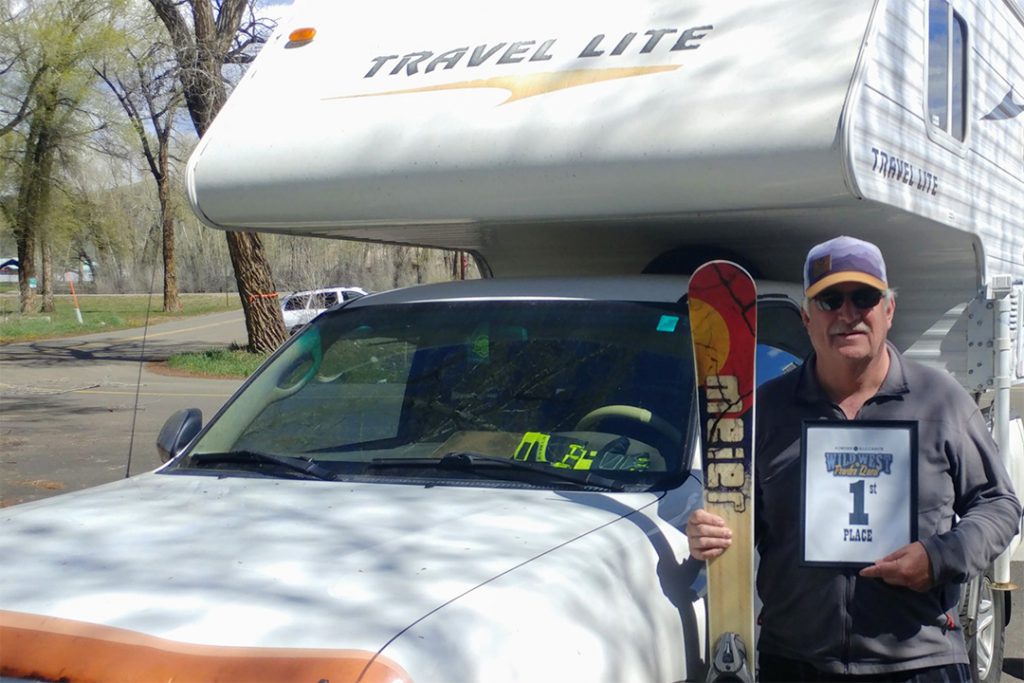 Congratulations to Larry McDonald from Gunnison, CO, 1st Place winner this year's Wild West Powder Quest. This road warrior visited 15 of the Alliance's 19 resorts making for the winter road trip of a lifetime. In celebration, he and a friend will be slaying even more fresh powder at La Parva, Chile this summer.
Larry has been skiing for more than 40 years with almost a decade spent working at resorts like Heavenly and nearby Crested Butte where he cleared trails in the summer and skiing all winter. Since then he has skied at nearly 150 areas in the US, Canada, and Italy, averaging 50 days a season…more now that he has retired and travels with his two rescue cats, Sydney and Webster. His 2000 Toyota Tundra shows 275,000 miles and he swears more than half of those are for skiing road trips.
When asked about his journey, McDonald said "My favorite Powder Alliance experience was at SilverStar Resort in British Columbia, where everything was ski-in and out. Ski-in and ski-out, ticket window, shops, lodging, restaurants…there was snow everywhere! Timberline in Oregon was incredible too. The collection of resorts in the Powder Alliance is awesome and visiting so many of them this season was amazing."
For his 1st place prize, Larry is spending 4 days south of the border at La Parva, Chile. This package includes lift tickets, lodging, and airfare for two. Congratulations again Larry!
Says Larry McDonald, "I've already purchased my 19.20 season pass to Monarch Mountain, CO and I can't wait to experience the awesome Powder Alliance resorts again this winter."
2nd Place: Adam Baron – 2019/20 Anytime Season Pass to Mountain High Resorts, CA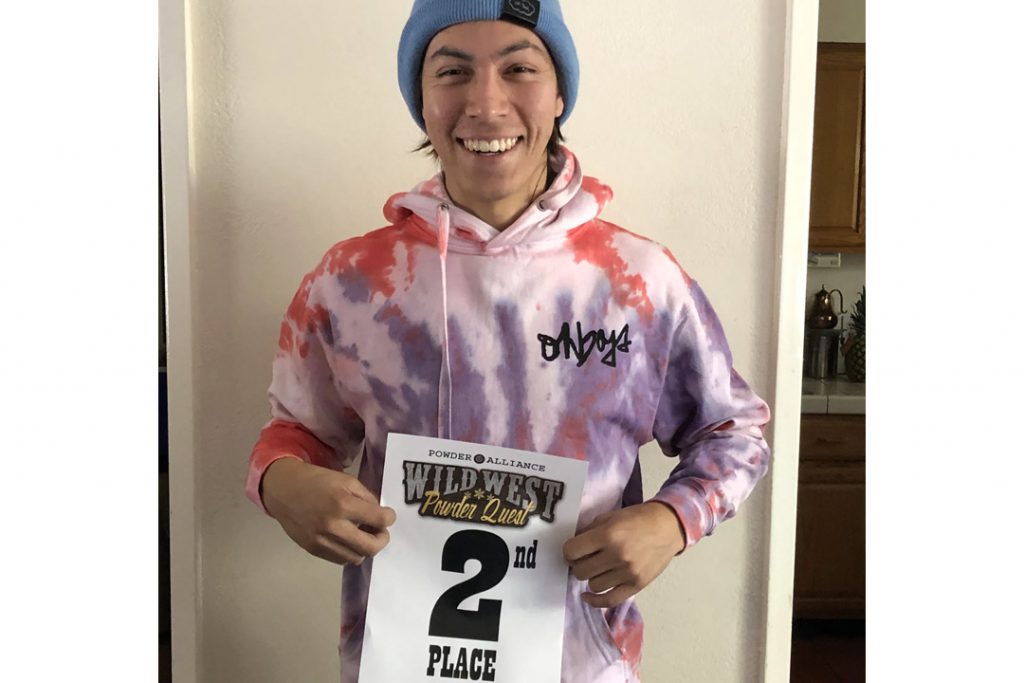 Adam Baron is this year's 2nd place winner in the Wild West Powder Quest. He visited 11 Powder Alliance resorts of which Monarch Mountain, CO, was his favorite. Adam wins a 19.20 Season Pass to his home resort Mountain High, CA.
Says Baron, "What I remember most is getting pulled over at 3am by Sheriffs in Idaho then getting denied entry at the Canadian border. My trip was amazing, unplanned and awesome the whole time. I wouldn't change a thing. See video from Adam Baron's trip here or on Instagram @filmingprojectors
Adam has been snowboarding for 5 years and skating for 10+. He loves skating but likes the outdoor environment that comes with snowboarding.
Says Baron, "My favorite Powder Alliance resort would have to be Monarch Mountain in Colorado. I love Colorado and the snow was amazing the day I ended up there. Powder like I've never ridden before.
3rd Place: Karen Boyle – Swag Bag to Loveland Ski Area, CO (sweatshirt, t-shirt, hat, mug, stickers, and more)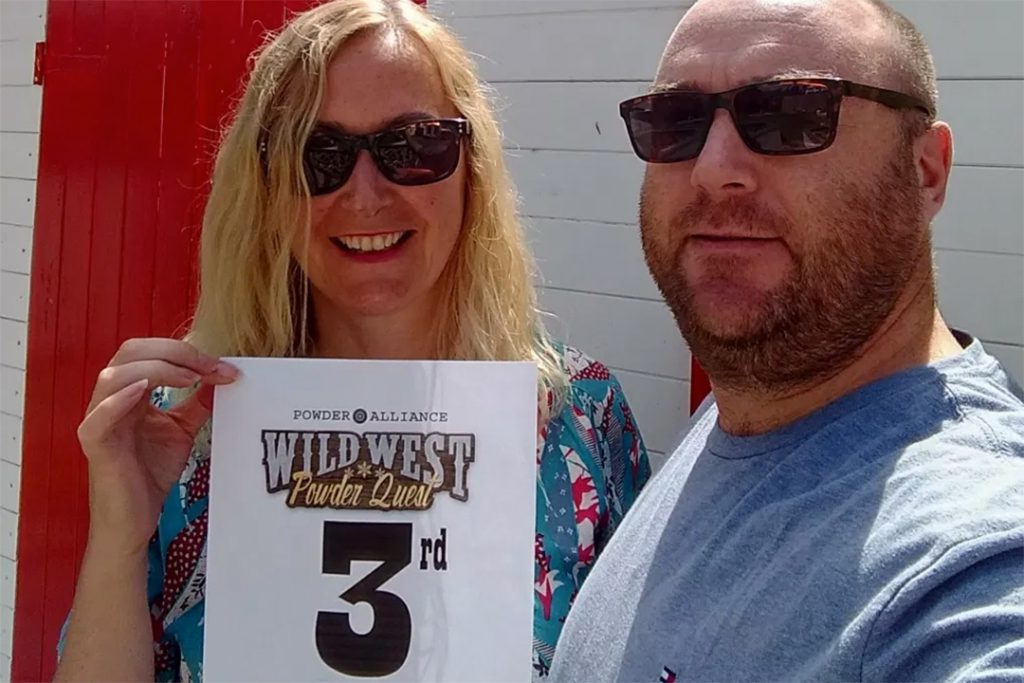 Congratulations to Karen Boyle, 3rd Place Winner in this year's Wild West Powder Quest. She takes home a swag bag from her home mountain, Loveland Ski Area, CO, filled with sweatshirts, hats, mugs, stickers and more. Karen has been skiing since she was 9 years old and just loves being in the mountains. This season she and her husband Richard set off on a 10,000 mile, 3-month snow tour in their campervan to cover as many resorts as they could. In that time they visited 12 Powder Alliance areas (plus a number of others) and skied 49 days.
Says Karen, "We had a fantastic time at all the resorts. Angel Fire was really amazing as we had tons of snow for somewhere so far south. Bridger Bowl had the loveliest people and a great local ski guide. China Peak has to be the prettiest resort in the Powder Alliance with its stunning pines. The Wild West Powder Quest has been great for getting us to try amazing new resorts out that we would otherwise know nothing about. It helped shape our road trip and got us in touch with the nicest people and wonderful local towns. It was a real trip of a lifetime!"
Said John McColly, Powder Alliance, "These two really embodied the spirit of the promotion. They got out there, they got serious about tagging themselves, and they toured a bunch of resorts for free with their season passes to Loveland Ski Area.
The Wild West Powder Quest is set to resume this November so, for all you snow seekers who didn't participate this year, get a season pass to your favorite Powder Alliance resort and join the Quest. It's free! Powder Alliance members receive three free days (restrictions apply) at all participating areas making it easy to explore some of the world's deepest powder destinations without breaking the bank. Participants are encouraged to visit powderalliance.com for specific resort restrictions, lodging specials, and travel discounts.
The Wild West Powder Quest is open to legal residents of the 50 United States, including the District of Columbia, ages 18 and over, and Canada, ages 19 and over. Click here for official rules and regulations. To learn more about the Powder Alliance and the Wild West Powder Quest visit www.powderalliance.com or contact John McColly at 760-316-7803 or john@mthigh.com. #powderalliance #wwpq19.